Pumpkin Spice Energy Balls (and a Pumpkin Round-Up)
This post may contain affiliate links. For more information, see my disclosure policy here
This post was originally published on September 28, 2017
It's fall, ya'll! And you know what that means . . . pumpkin all the things! Fall brings pumpkin pies and pumpkin bread, Pumpkin Spice Lattes, Pumpkin Patches and pumpkin décor. So I'm embracing fall and jumping on the pumpkin bandwagon with my Pumpkin Spice Energy Balls!
I took my Peanut Butter & Chocolate Energy Ball recipe and switched it up with a milder nut butter as well as some pumpkin and spice! The result is a yummy bite-sized treat, perfect for boosting your energy while satisfying your craving for a PSL.
I started with the basic ingredients: some kind of seed/nut butter, oats, and honey then added some pureed pumpkin and pumpkin pie spice. For this recipe, I chose to use almond butter, because it has a milder flavor and I wanted the pumpkin flavor to stand out. If you want to make these lactation-friendly, just add some brewer's yeast and ground flaxseed.
I decided to add some mini chocolate chips to the mix because, why not! A little chocolate makes everything better.
Now, mix all the ingredients together in a big bowl and you're ready to chill!
Chill the mixture for at least 15 minutes, then you can bring it out and roll them into balls.
Store in the fridge in an air-tight container.
So easy, right? A super simple (and healthy) way to add a little pumpkin spice to your life!
Want to make your own? Here's the recipe:
2

cups

old-fashioned oats

3/4

cup

nut/seed butter

1/4

cup

pumpkin puree

1/2

cup

honey

1/2

cup

chocolate chips

(optional)
2

cups

old-fashioned oats

3/4

cup

nut/seed butter

1/4

cup

pumpkin puree

1/2

cup

honey

1/2

cup

chocolate chips

(optional)
In a bowl, add all ingredients except the chocolate chips. Mix until well combined.

Stir in chocolate chips (if desired)

Place mixture in fridge and allow to chill for at least 15 minutes

Store in refrigerator and enjoy!
If the mixture is sticky and you're having trouble forming the balls, apply a little water to your hands.
Recipe courtesy of Jenny @ Love, Jenny (lovejennyblog.com)
Pumpkin Round-Up
Want a few more ways to add a little (or a lot) of pumpkin into your life? Check out all these other great ideas!
(Please pin from original sources)
Pumpkin Spice Latte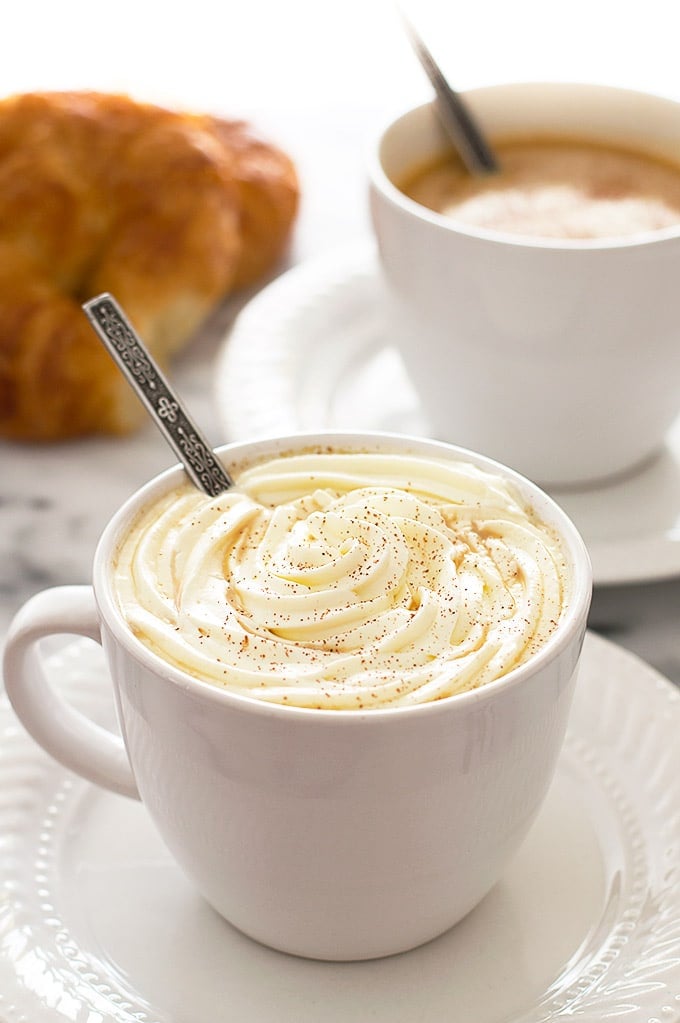 Tracy, at Baking Mischief, has a great recipe for a homemade Pumpkin Spice Latte, made two ways. A creamy, decedent version and a lighter version, great if you're wanting to avoid more than just the line at Starbucks. Best part? Making this "traditional" fall drink at home means saving money and you don't have to put on pants to leave the house. Win-win!
Pumpkin Chai Latte
Now, please don't throw a book at me, but while I know that PSLs are all the rage, I actually prefer a nice chai latte. SO I was super excited when I stumbled across this Pumpkin Chai Latte recipe from Kate at Cookie + Kate. Now I can get my pumpkin fix while still sipping on my favorite hot beverage. Mmmmm . . . I love fall!
Pumpkin Juice
I love Harry Potter. Wait. Let me rephrase that . . . I LOVE Harry Potter!!! There. Better. And being the huge HP fan that I am, as soon as I saw this recipe for Harry Potter's Pumpkin Juice from the ladies at Favorite Family Recipes, I knew I had to try it. So good! It tastes just like it does at Hogwarts! Or, at least how I imagine it would taste at Hogwarts, since I've never been. Or to the Wizarding World of Harry Potter, for that matter. Because work, bills, babies . . . but someday, Harry. Someday!
Pumpkin Cheesecake Swirl Muffins
With so many yummy pumpkin drinks, we'll need a sweet little treat to go with them. These Pumpkin Cheesecake Swirl Muffins from Survival Finds are just the thing! Like a pumpkin pie and cheesecake had a baby. Plus it's a muffin, and muffins are a breakfast food, not a dessert, so you don't need to feel guilty eating one (or two or three) first thing in the morning, right? Right? Right!
Baked Pumpkin Oatmeal
Speaking of breakfast foods, thanks to Rebecca from Strength & Sunshine, here's a super yummy and healthy way to add some pumpkin to your day right from the start. Baked Pumpkin Oatmeal! This recipe is vegan, allergy-free, and gluten-free, so you can serve it to a crowd and not have to worry about whether it interferes with someone's dietary restrictions. And really, what better way to jumpstart your morning on a cool, fall day than with a warm bowl of oatmeal?
Marbled Pumpkins
How gorgeous are these marbled pumpkins from Sara and Melissa at Alice & Lois? Stunning! Want to know what supplies you need to make these gorgeous gourds yourself? Water and nail polish! So easy and so beautiful! I can't wait to make some of my own.
Fabric Pumpkins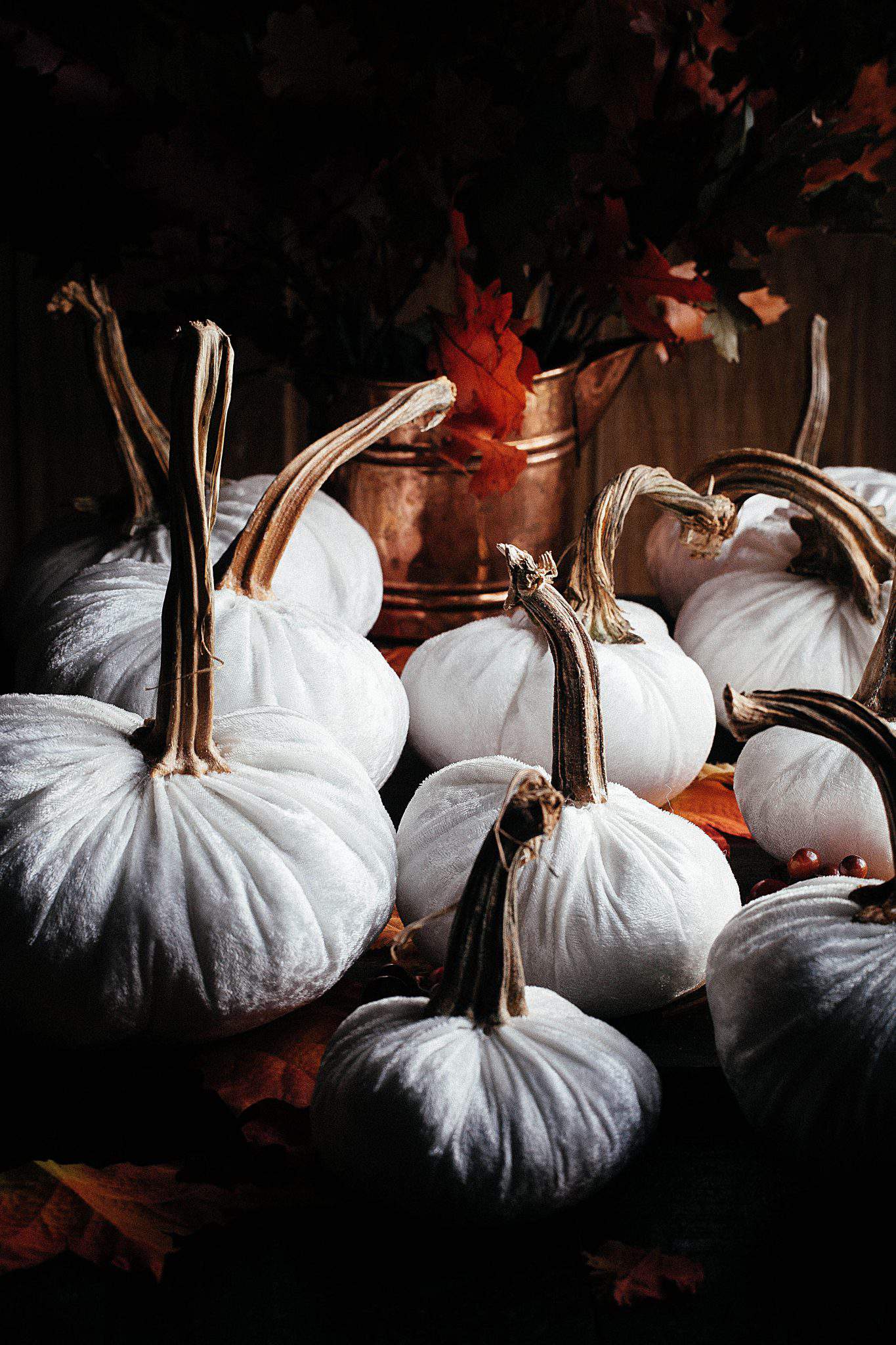 Another pumpkin look I'm loving are groupings of fabric pumpkins. Especially in a nice velvet or velvety type fabric, they look cozy and luxurious! Lisa from Celebrate Creativity has a great tutorial on how to easily make your own.
Pumpkin Argyle Wreath
How adorable is this Pumpkin Argyle Wreath from Kara at Mine for the Making. Dressing up your home's front door is one of the easiest ways to ring in the fall season (or any season/holiday, for that matter). Not only is this wreath super cute, but it's super easy to make too! I want to make one of these for all of the holidays!
Sugar Skull Pumpkin Treat Holders
These Sugar Skull Treat Holders from Christy at My Scrapbook Evolution would be adorable as a class treat or Halloween Party favor! And having spied all the gorgeous sugar skull Halloween decorations at Target right now, I'd say these are right on trend!
Vanilla Pumpkin Sugar Scrub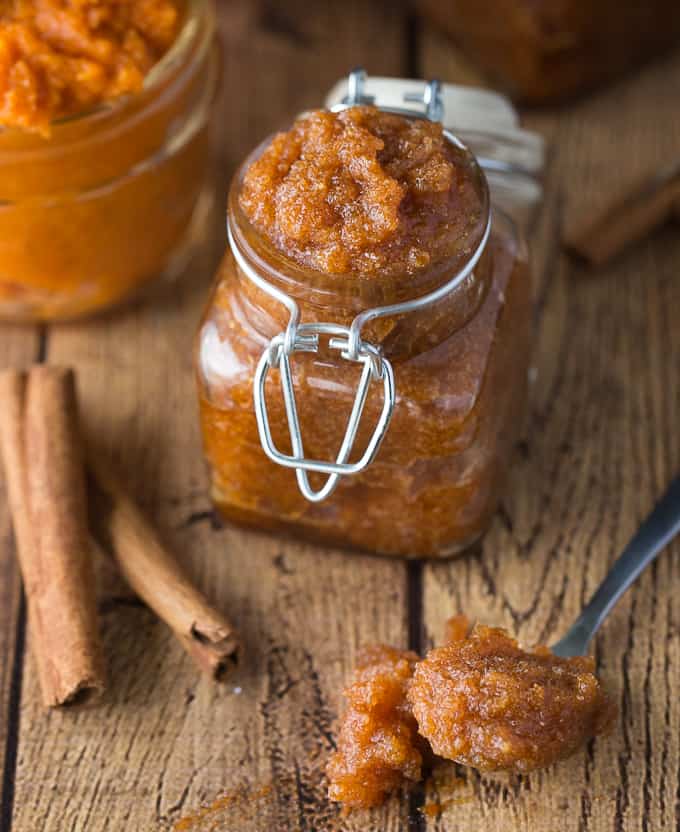 Who doesn't love a good sugar scrub? They're great for exfoliating dry winter skin and the coconut oil that's in this Vanilla Pumpkin Sugar Scrub, from Stacie at Simply Stacie, recipe makes this scrub moisturizing too! This is a great, indulgent way to use that leftover pumpkin puree that's sitting in your fridge!
Pumpkin Soap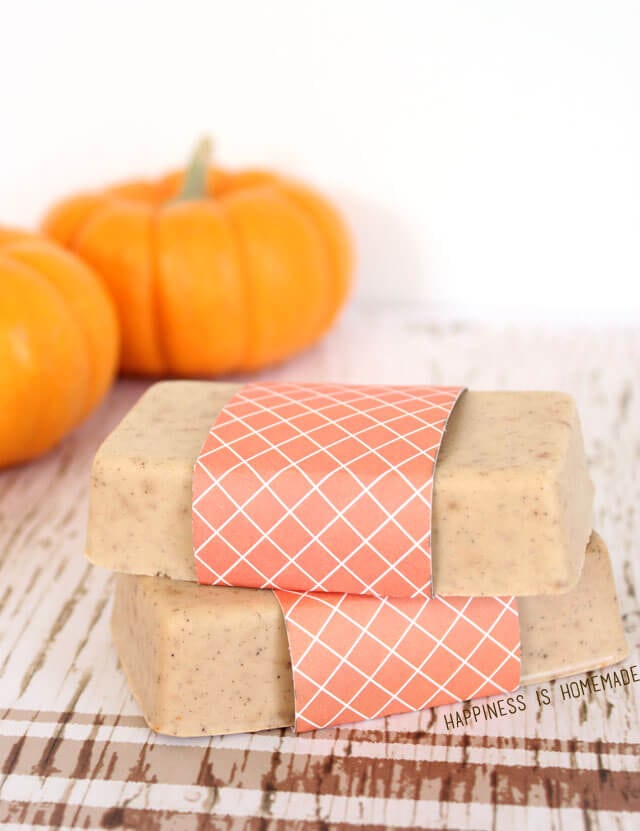 This Pumpkin Soap from Heidi at Happiness Is Homemade takes just 10 minutes to make! It's a great idea to give as a gift or as just use yourself, to bring a little of the fall into the shower with you.
What's your favorite way to add a little pumpkin spice to your fall?
Linking at: Skip To My Lou, Tatertots & Jello
Save
Save
Save
Save
Save
Save
Save
Save
Save
Save
Save
Save
Save
Save
Save
Save
Save
Save
Save
Save
Save
Save
Save